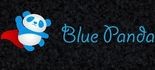 By : Dol Smile

January 05, 2017
0
Helpful
0 of 0
found this helpful
"Fantastic hosting experience"
---
Shared Hosting
My experience with Bluepanda is extremely fantastic. I am using the server since last 2 years and speed and space provided is just above expectations. My website is loaded with 3500-4000 pics and this don't become an obstacle in loading site. I got a lot appreciations from clients that they can access site so easily. Thanks Bluepanda for such an awesome service.
Nothing
User
Great speed and space
No
Yes
I will definitely recommend others for using bluepanda services in future too as they are perfect in their work.
---