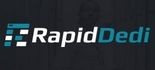 By : Konstantinas Arefjevas

November 17, 2016
0
Helpful
0 of 0
found this helpful
"Great quality, better support"
---
Dedicated Servers
Ibraheem is a friendly and empathic person to make business with. He understands our needs and gives offers accordingly. Servers are delivered fast and the price/quality ratio is really good. Their support works 24/7 and there have not been a waiting time longer than 30 minutes since we started working with RapidDedi.
There was a little hazzle while setting up the first server but it was sorted out really quickly.
Company Executive
No
Yes
If you're looking for US based servers and IP space - RapidDedi is a great option.
---