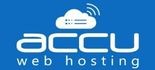 By : Pastor Mike Ayeni

September 03, 2018
0
Helpful
0 of 0
found this helpful
"Great Hosting"
---
Shared Hosting
It's speed and reliability. I don't remember anytime where I opened the website without it working. It always works which is odd as it is the free wordpress service. It's really great stuff. It's always fast and it always works. Thanks Accuwebhosting.
Nothing, yet. Really, nothing. It's good. It's SURPRISINGLY good.
Company Executive
Yes
It's great to start. Even better when you have multiple websites as the charges are extremely affordable compared to other hosting providers.
---