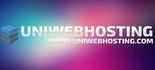 By : Señor Verde

September 01, 2018
0
Helpful
0 of 0
found this helpful
"Scammers"
---
Dedicated Servers
The only thing I liked a little was the speed of response in their "tickets", but they only respond when it suits them, and they never gave me my dedicated server, that's why I left my review, I just lost time and money.
All, i hate the scammers. They never sent me the "refund", I asked them many times in "tickets". And in their "terms and conditions" as they offer refund without problems, I have been waiting for more than 15 days for my dedicated server, I lost my money and time, I do not recommend this hosting.
User
NOOOO, scammers and you will lost time.
---