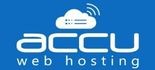 By : Anonymous

November 25, 2017
0
Helpful
0 of 0
found this helpful
"Consectively support"
---
Windows VPS
We appreciate support style of AccWeb Team at all time. Small issue, big issue, AccWeb Team can help us solve the problems. Sometime the problem related to the knowledge of hosting, ofcourse AccuWeb team give us an advice as an Hosting Expert too.
Never dislike as we continue using service from AccuWeb for more than 8 years.
Web Master
To satisfy our clients for serveral issues of Hosting service, AccuWeb doing the best as a backup partner in this area.
No
Yes
We would love to recommend AccuWeb to anyone or any company which seeking a partner who is an expert in Hosting Service.
---