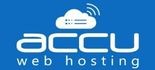 0
Helpful
0 of 1
found this helpful
"Can't beat Accuweb for webhosting"
---
Wordpress Hosting
The reliability & speed of my website on Accuweb is is top notch. Their support staff is awesome to deal with whenever you might have a question also. I would definitely recommend Accuweb for anyone looking for a great webhost provider.
There is nothing to dislike about Accuweb, top notch service provided by them.
Server Admin
Yes , we are switching from "Justhost"
Yes
---