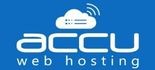 By : Onslow-Jones Reentry Council

August 13, 2018
0
Helpful
0 of 0
found this helpful
"Great for starters."
---
Wordpress Hosting
We love the flexibility and freedom to do what we need to with our hosting services. We've always had 100% satisfaction with the customer service and tech support provided by AccuWebHossting. They've always solved issues and been patient.
Having to submit a review each month to keep our account active. While we don't complain as this is a free service, there should be other ways to verify that a hosting account is real and being used.
User
Raising awareness in the criminal justice world.
No
Yes
---