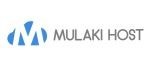 By : Anonymous

February 23, 2018
1
Helpful
1 of 1
found this helpful
"Really cheap VPS plans and high performance"
---
VPS Hosting
Really cheap VPS plans, good support and slick dashboard interface. This is a great budget solution. They offer Pure SSD , Anti DDOS 50Gbps and much supportive. In comparison with other hosting provider its awesome andi would suggest.
So far I have not complains with my hosting service with Mulakihost
Server Admin
Yes , we are switching from "Hostgator"
Yes
Correct, PureSSD, High quality products and services
---