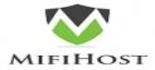 By : Anonymous

December 07, 2017
0
Helpful
0 of 0
found this helpful
"Great customer service "
---
VPS Hosting
Helpful and patient tech support . MifiHost take pride in every aspect of their business - from their business integrity to their award-winning customer service, they have earned my business and loyalty indefinitely.
None yet, probably later.........................................................
Company Executive
Uptime
Yes , we are switching from "SiteGround"
Yes
When I was initially looking for a web host for my business, Quality Signs & Design. My friend asked me to go MifiHost, I of course checked the reviews online. I discovered that MifiHost wasn't placed in the top Hosts but had positive reviews. I was kinda afraid of going for such host who couldn't rank better but i was eventually convinced by my friend that most hosts who rank higher do pay for reviews and higher ranking Also, MifiHost was among the cheapest hosting company.
---