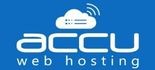 By : Anonymous

November 12, 2017
0
Helpful
0 of 0
found this helpful
"My experience with AccuWebHosting"
---
Shared Hosting
ease of use - the interface is intuitive and there are plenty of hands on documentation, also they have great customer support - my chatting with company rep was effective to get my question answered and solution found. I would definitely recommend AccuWebHosting and consider to move more of our solutions to there from other hosting solutions. Also regarding technological stacks they are on top of it with up-to date updates and best possible performance.
So far I like everything we use, they really know what clients need.
Company Executive
hosting of Content Management System for our blog and text intensive par of our website
No
Yes
Yes.
---