Host1Plus provides affordable and customisable hosting solutions for bloggers, developers, web designers and business owners. We currently have 8 data centers and local support teams situated in Brazil, Germany, Lithuania, South Africa, the Netherlands, the United Kingdom and the United States.

Shared Hosting Plans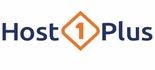 Linux OS
Unlimited Storage (Pure SSD)
Unlimited Bandwidth
Free Domain Registration, Daily Backup
Hosting of 10 domains(sites) in 1 account
14 Days Money Back Guarantee
(Chicago, US),
(London, UK),
(Johannesburg, South africa)
Business for $6 / month
Linux

N/A

Unlimited

Unlimited

10
Pure SSD

$6

$18

$33

$72

14 Days
VPS Hosting Plans
Join TheWebHostingDir.com
New to TheWebHostingDir.com?
Sign Up
Sign up to TheWebHostingDir.com
Forgot Password
Please enter your email address below. You will receive a link to reset your password.