0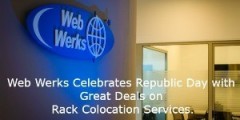 Web Werks Data Centers offering huge discounts on a complete range of their rack colocation services to aid SMEs and big businesses manage their mission-critical data and applications.
1 Times Network awarded Web Werks with the best 'Social Media Campaign of the Year' award for the excellence in social media and digital marketing for 'Cloud Data Centers
2 Web Werks is pleased to announce that its 30,000 square feet carrier-neutral colocation data center space at Mumbai has received prestigious DC OIX-2 certification from the Open-IX As...
3 Web Werks data center has won the Great Indian Workplace Award (GIWA) 2017 awarded at the Workplace Culture Summit 2017.
4 Web Werks recently announced that it has successfully completed its annual Statement on Standards for Attestation Engagements (SSAE) No. 16 Service Organization Control (SOC) 1 compliance for its data...
5 17th Apr, 2017
Web Werks Certified as Tier III in the U...
Web Werks is now Uptime Institute Certified Tier III data center service provider in both design and construction. The prominent IT facilities provider has been certified for complying with most robus...
6 06th Dec, 2016
Web Werks Introduces Latest Generation o...
Web Werks Introduces Latest
Generation of Plesk Control Panel, Plesk Onyx, the Leading WebOps Platform and the
Only OS Agnostic
Platform, to<...
7 29th Nov, 2016
Web Werks Achieves HIPAA Compliance Cert...
Web Werks has Achieved HIPAA Compliance Certification Meeting the Security Standards Required to Maintain Healthcare Information.Web Werks sets another standard for c...
8 07th Oct, 2016
Weighing the Challenges of BYOD and Deal...
Data centers and network services have grown so advanced that today any place can become your office. Working from remote locations is no more a thing of tomorrow. There is a sudden shift in the deman...
9 03rd Oct, 2016
Web Werks Data Center achieves PCI DSS C...
 Web Werks India Pvt. Ltd. Achieves yet Another Certification by Becoming Payment Card Industry Data Security Standard (PCI DSS) V3.1 Compliant for its Tier 4 Datacenter in Mumbai, India. Web Werks, a...