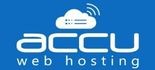 By : Softopia Tk

September 21, 2018
0
Helpful
0 of 0
found this helpful
"Best and cheap hosting"
---
Shared Hosting
Accuweb provides SSD hosting in a very reasonable price with all of the feature you need. I am running my site on Accuweb for more than 1 year i never felt any issue. Their customer support is best and they are always ready to solve the problem within 24 hours.
sometimes it slow down and user gets out of resource error which is very annoying.
Server Admin
I am running my TEch blog.
No
Yes
if you are starting a wordpress blog then this is the best option for you.
---