UnderHost company was founded in the year 2007 as a shell account and email hosting company. Our staff have over 30 years of combined experience in the hosting, IT or technical customer service careers. Today, we are a global company, servicing more than 6000 clients and host now around 25 000 domains. While many hosting companies and ISP's have failed, merged or re-organized in the last years, UnderHost has experienced exponential growth and has been profitable since inception.

Shared Hosting Plans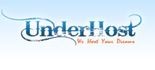 Linux OS
5GB Storage (Pure SSD)
200GB Bandwidth
Free Domain Registration, Daily Backup
Hosting of 3 domains(sites) in 1 account
Account Setup - 1 Hour
UnderHost for $4.95 / month
Linux

Yes

5GB

200GB

Unlimited

3
Pure SSD

$4.95

$13.95

$25.95

$53.95

N/A
Join TheWebHostingDir.com
New to TheWebHostingDir.com?
Sign Up
Sign up to TheWebHostingDir.com
Forgot Password
Please enter your email address below. You will receive a link to reset your password.