0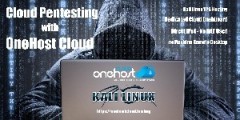 OneHost Cloud has been providing Cyber Pentesting Cloud Machines since 2014 and has grown into the number one provider or Kali Linux VPS Hosting. Our customers include large to medium sized corporatio...
1 Remote Dekstop with Kali Linux & Pen...
17th Apr, 2017
We have been hard at work optimizing and configuring the best possible Remote Desktop solution for our pentesting Virtual Private Servers OneHost Cloud & Security is the ONLY hosting provider that off...
2 Zero Waiting - Instant Hosting Suppo...
03rd Oct, 2016
We dislike our customers waiting for support. Sometimes customers just need to ask a simple question which can be answered in a few seconds – so why should they take the time to formulate an email, lo...