FORPSI is a trading name of INTERNET CZ, a. S., Which is one of the largest ISPs in the Czech market. Currently administers more than 350 thousand. domains.

From its own data centers in the South Bohemian Kriš we provide our customers with these services - domain registration, web hosting, server (dedicated servers, housing, VPS) and cloud services.







Shared Hosting Plans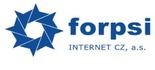 Linux OS
Unlimited Storage (Pure SSD)
Unlimited Bandwidth
Free Domain Registration
Hosting of 10 domains(sites) in 1 account
Account Setup - 1 Hour
(London, UK),
(KTIŠ, Czech republic),
(Arezzo, Italy)
Package Advanced for $1.9 / month
Linux

Yes

Unlimited

Unlimited

10
Pure SSD

$1.9

$5.7

$11.4

$22.8

N/A
VPS Hosting Plans
Dedicated Hosting Plans
Join TheWebHostingDir.com
New to TheWebHostingDir.com?
Sign Up
Sign up to TheWebHostingDir.com
Forgot Password
Please enter your email address below. You will receive a link to reset your password.