0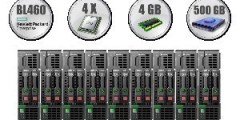 HPE ProLiant blade servers simplify data center operations and reduce downtime up to 90%. Designed for enterprise workloads, ProLiant blade servers deliver the performance and reliability that traditi...
1 Comodo® SSL Certificates
05th Mar, 2017
According to the plan of our expansion in the security market, starting from the beginning of March 2017, we are achieved a partnership with one of the most valuable SSL CAs - Comodo CA. Buy or Renew...
2 High Performance Servers
13th Jan, 2017
December 2016: can you imagine the Server Cluster with 2+ Terabytes of RAM, 500+ Intel® Xeon™ CPU Cores and 1+ Petabyte Enterprise SAS storage? Yes, we can. Welcome to the CROWEB.HOST...
3 Partnership with Vipnet ICT
09th Aug, 2016
During the last period in business co-operation with Vipnet ICT sector  we have realized Fiber-optic gigabit internet connection from Vipnet  DataCore to our Data Center.Fast, safe and stable connecti...
4 New Virtual Servers
21st Feb, 2016
We have implemented new generation of Virtual Servers (VPS) based on OpenVZ Virtualization Technology and Virtualizor® server CP. Virtualizor is a powerful web based VPS Control Panel. It supports...
5 Quality First - SpeedTest
21st Feb, 2016
Test our ‪servers before you make a ‪hosting‬ decision! We have realised public Speed Test of our servers. The croweb.host Speed Test checks your connection's download and uplo...
6 Game Servers
26th Jul, 2015
According to the plan for expansion of our services, we have started with new generation of Game Servers, which are implemented on our custom high-performance and scalable architecture that can handle...