UK2 has been a major player in the web hosting industry since 1998. We have sold over a million domain names, and host thousands of websites and dedicated servers for customers in various countries. We can also proudly say that we are one of the biggest and fastest growing web hosting companies in the UK!



Shared Hosting Plans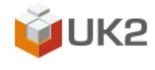 Linux OS
Unlimited Storage (Pure SSD)
Unlimited Bandwidth
Free Domain Registration
Hosting of Unlimited domains(sites) in 1 account
Account Setup - 1 Hour
(Amsterdam, Netherlands),
(London, UK)
BUSINESS for $5.5 / month
Linux

Yes

Unlimited

Unlimited

Unlimited
Pure SSD

$5.5

$16.5

$33

$66

N/A
VPS Hosting Plans
Dedicated Hosting Plans
Join TheWebHostingDir.com
New to TheWebHostingDir.com?
Sign Up
Sign up to TheWebHostingDir.com
Forgot Password
Please enter your email address below. You will receive a link to reset your password.