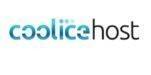 Virtual Dedicated Servers
Scalable resources. Full root access. Top security standards. Monthly/Quarterly/Yearly plans. 24/7 live suppor. No hidden fees.
Virtual Dedicated Server (VDS) is a virtual machine sold as a service by Infrastructure as a Service (IaaS) cloud providers. It has a similar meaning to VPS but the resources are dedicated and guranteed for the customer (CPU cores / RAM / Storage) and can be utilized at 100%, 24/7 during contracted period.
CooliceHost gives you the best Virtual Dedicates Server solutions in order to prevent downtime and lag, and to guarantee you stability! We are fully aware of the latest Infrastructure as a Service (IaaS) tendencies and we know how to secure your data. That's why we present this service to you. Our Managed Virtual Dedicated Servers are a great option for people who just need some peace and quite to run their successful online business. After all, it's our job to make sure you stay focused on developing your business.
Virtualization & Other Account Features
Control Panel, Payments & Misc
CooliceHost Hosting Support Features
Additional Information About CooliceHost